Reproducibility studies
---
For the validity of biological and technical replicates
Antibiotic resistance analysis
---
Comparing with positive and negative controls
Group differentiation
---
Feature extraction: Strain class, resistance mechanism, bacteria type, etc
Samples identification
---
Strain typing prediction with custom database support
Multimodal data
---
Use MALDI-TOF MS, FTIR or a combination of both formats to extract the most out of your samples 
CLOVER MS DATA ANALYSIS SOFTWARE
THE POWER OF MASS SPECTROMETRY AND INFRARED SPECTROSCOPY TECHNOLOGIES ON ONE PLATFORM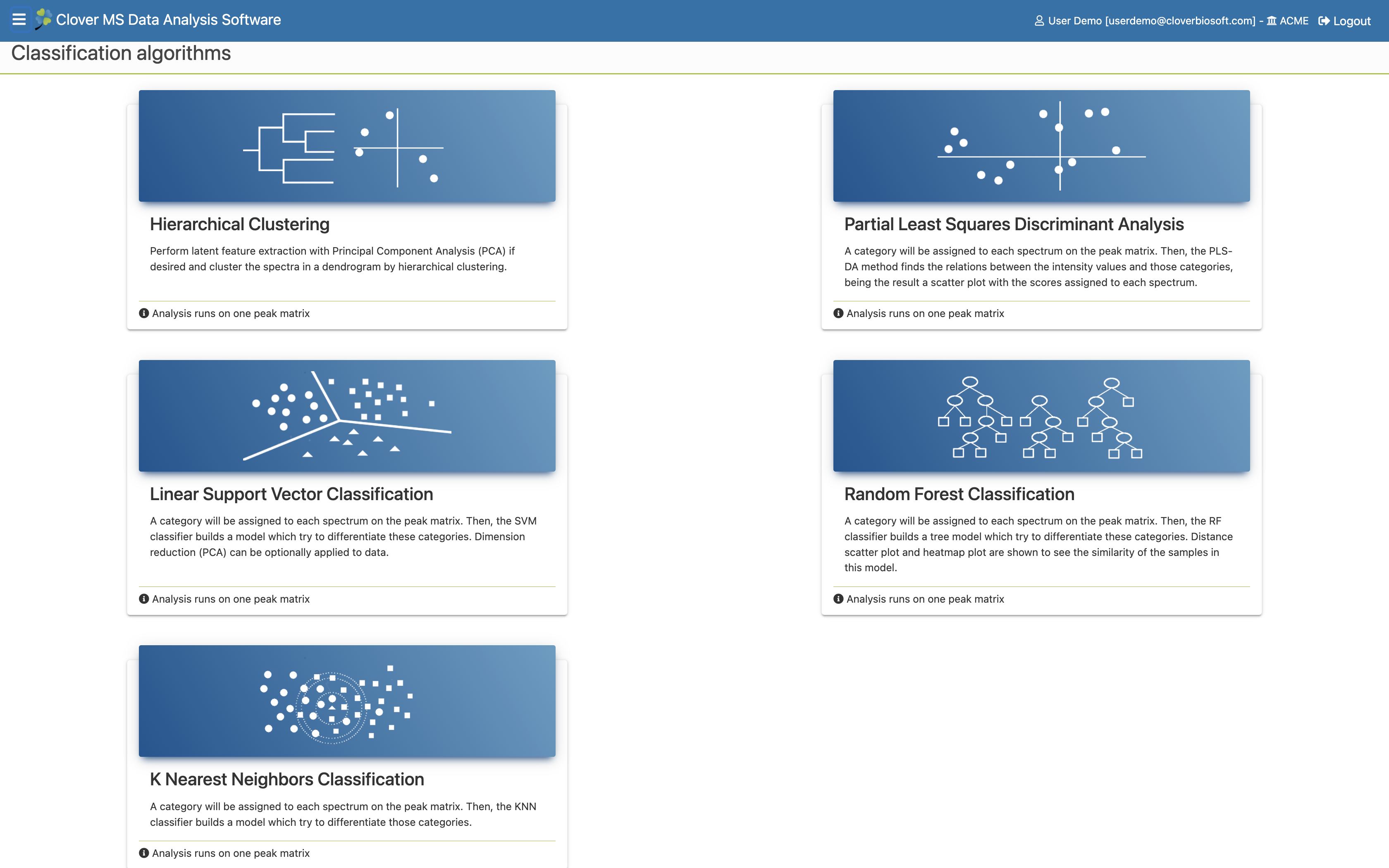 CLASSIFICATION MACHINE LEARNING -ALGORITHMS
THE BEST SUPERVISED AND NON SUPERVISED ALGORITHMS UPDATED FOR CLASSIFY YOUR DATA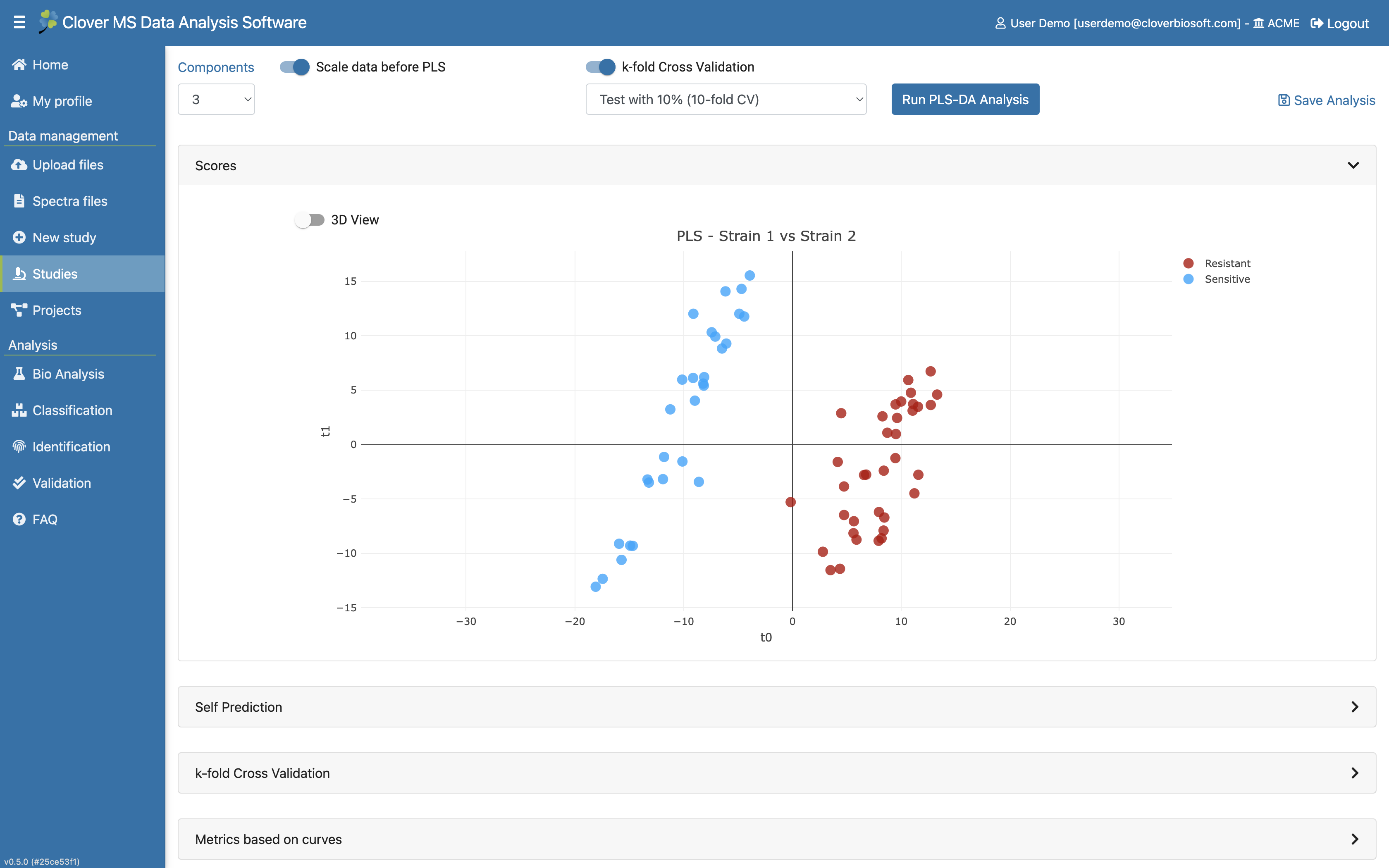 PARTIAL LEAST SQUARES ALGORITHM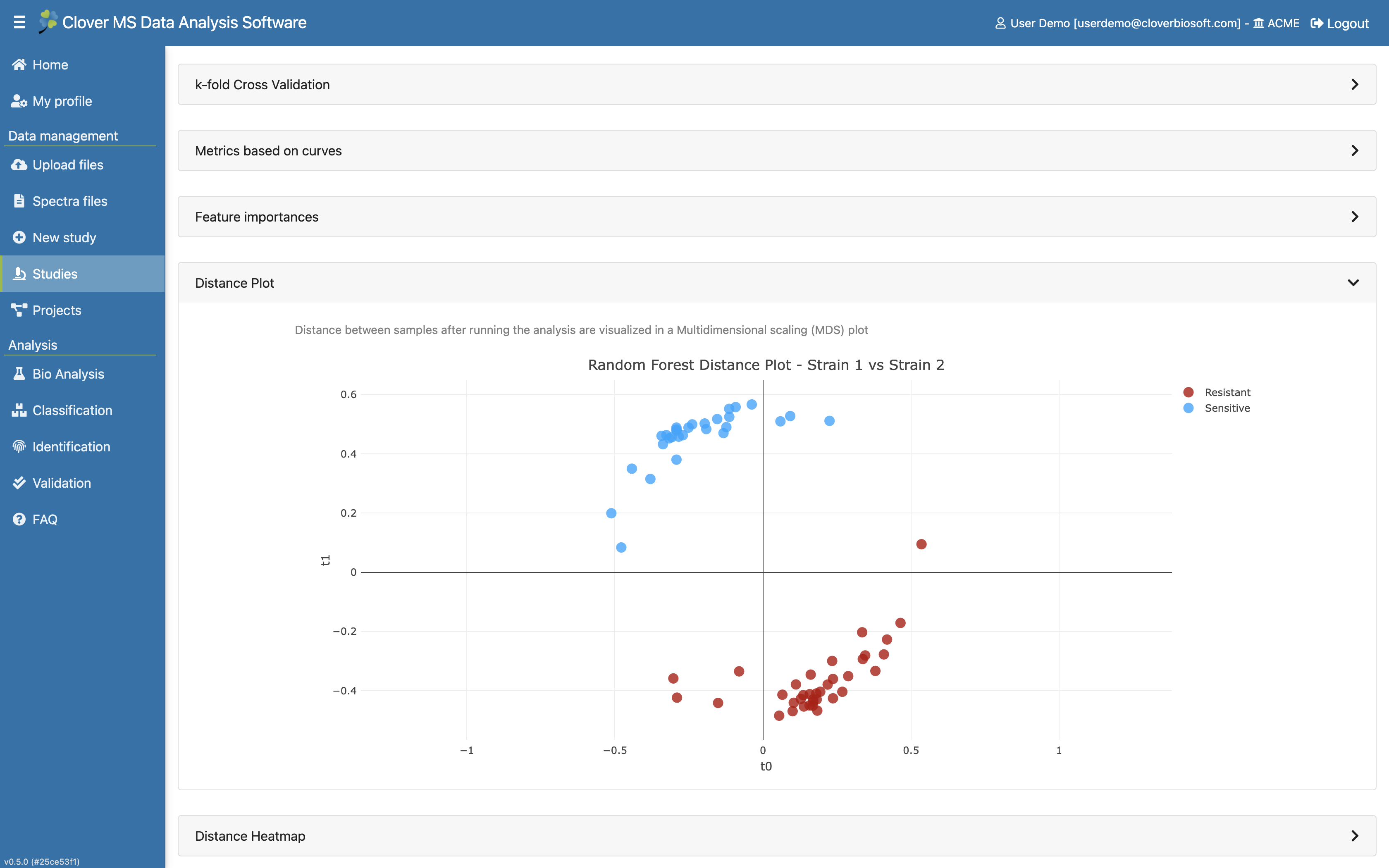 RANDOM FOREST ANALYSIS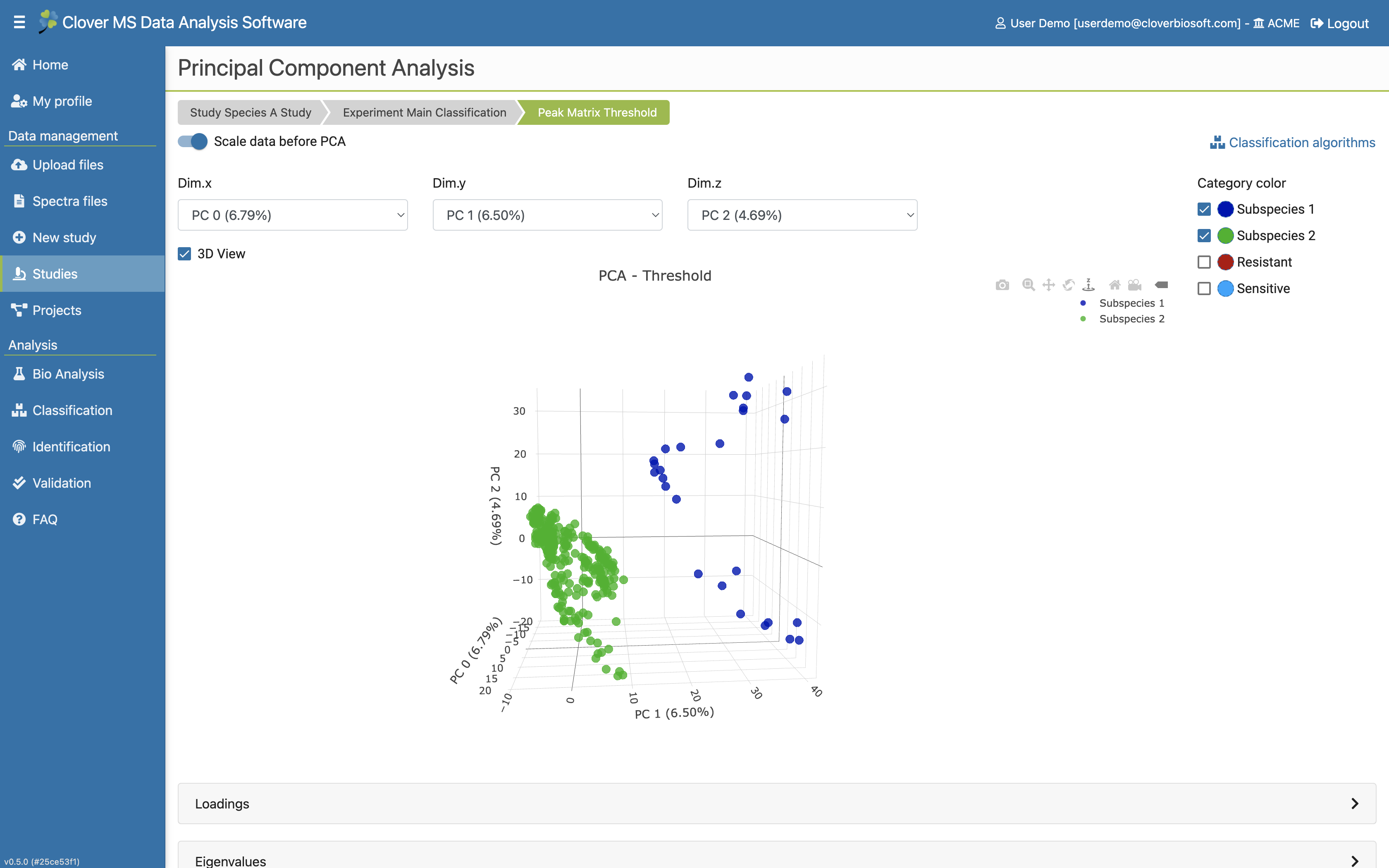 PRINCIPAL COMPONENT ANALYSIS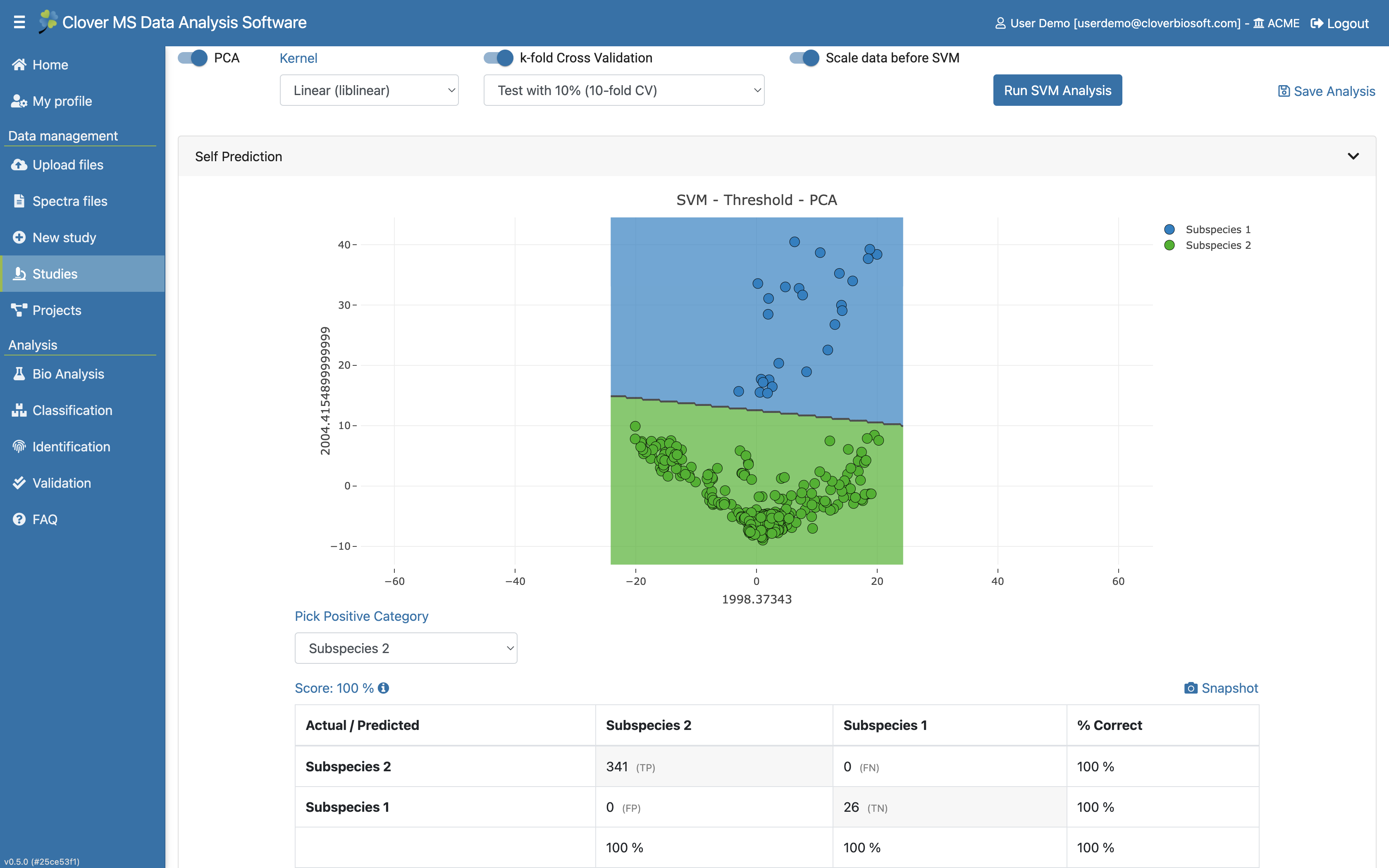 SUPPORT VECTOR MACHINES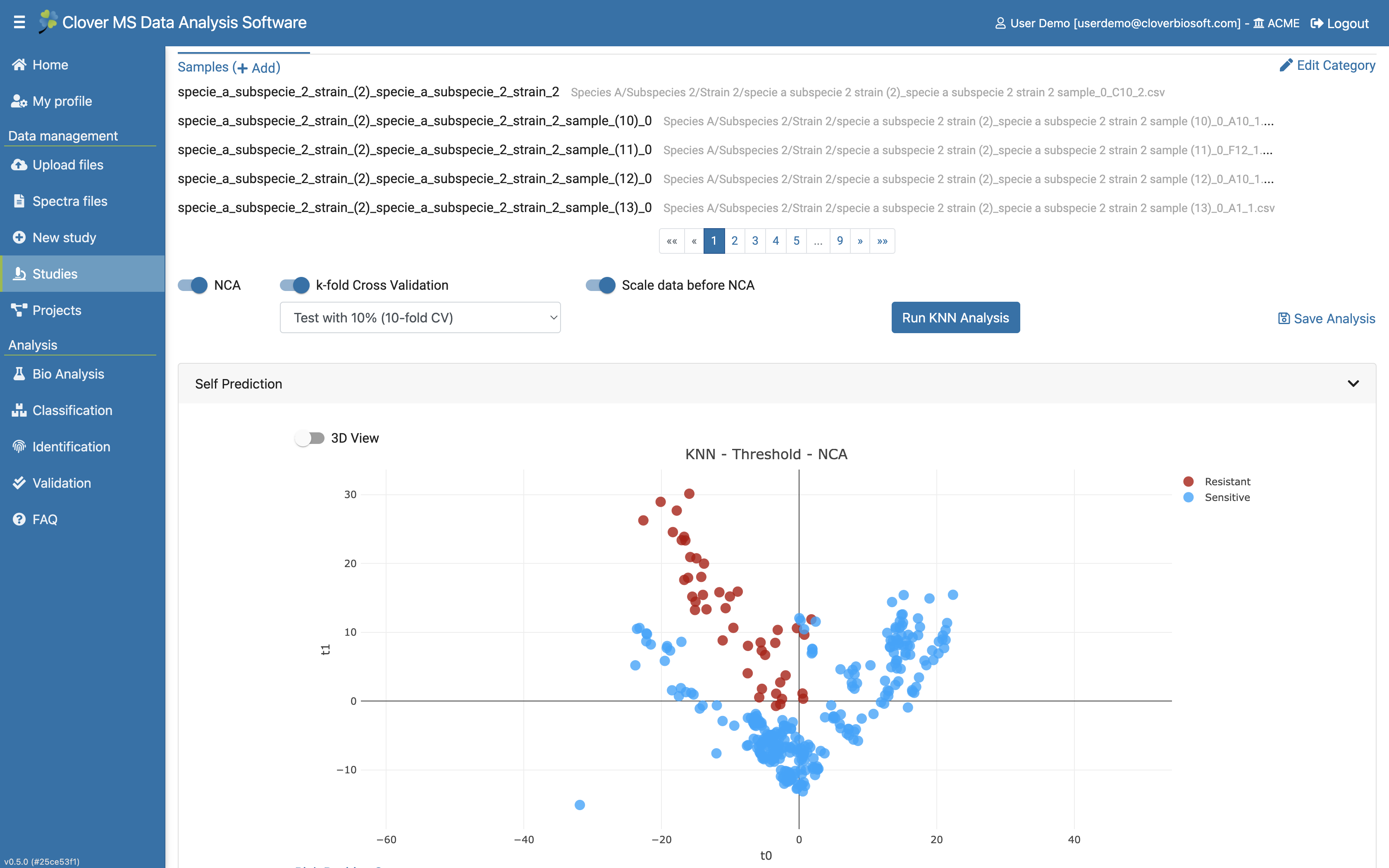 K-NEAREST NEIGHBORS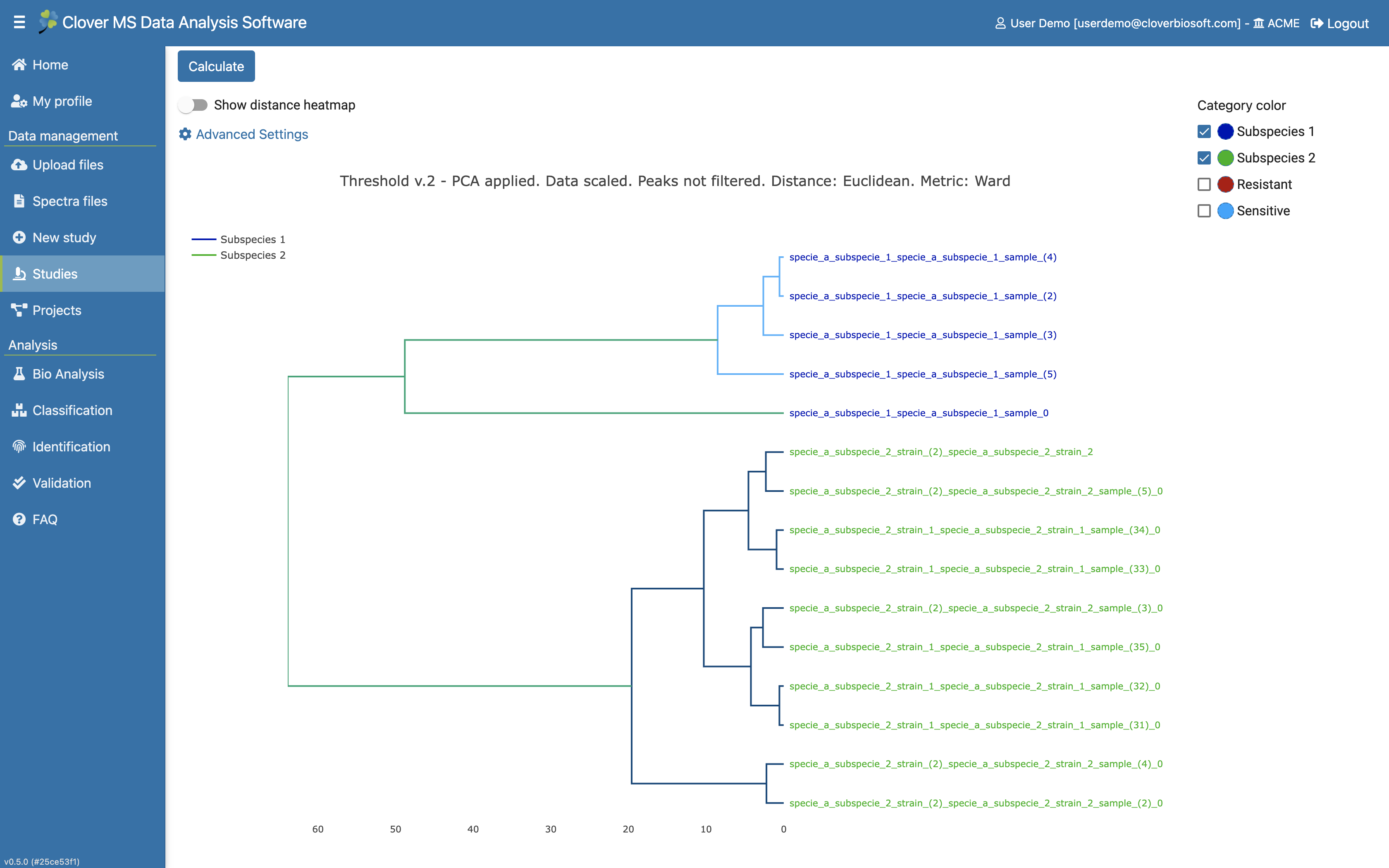 HIERARCHICAL CLUSTERING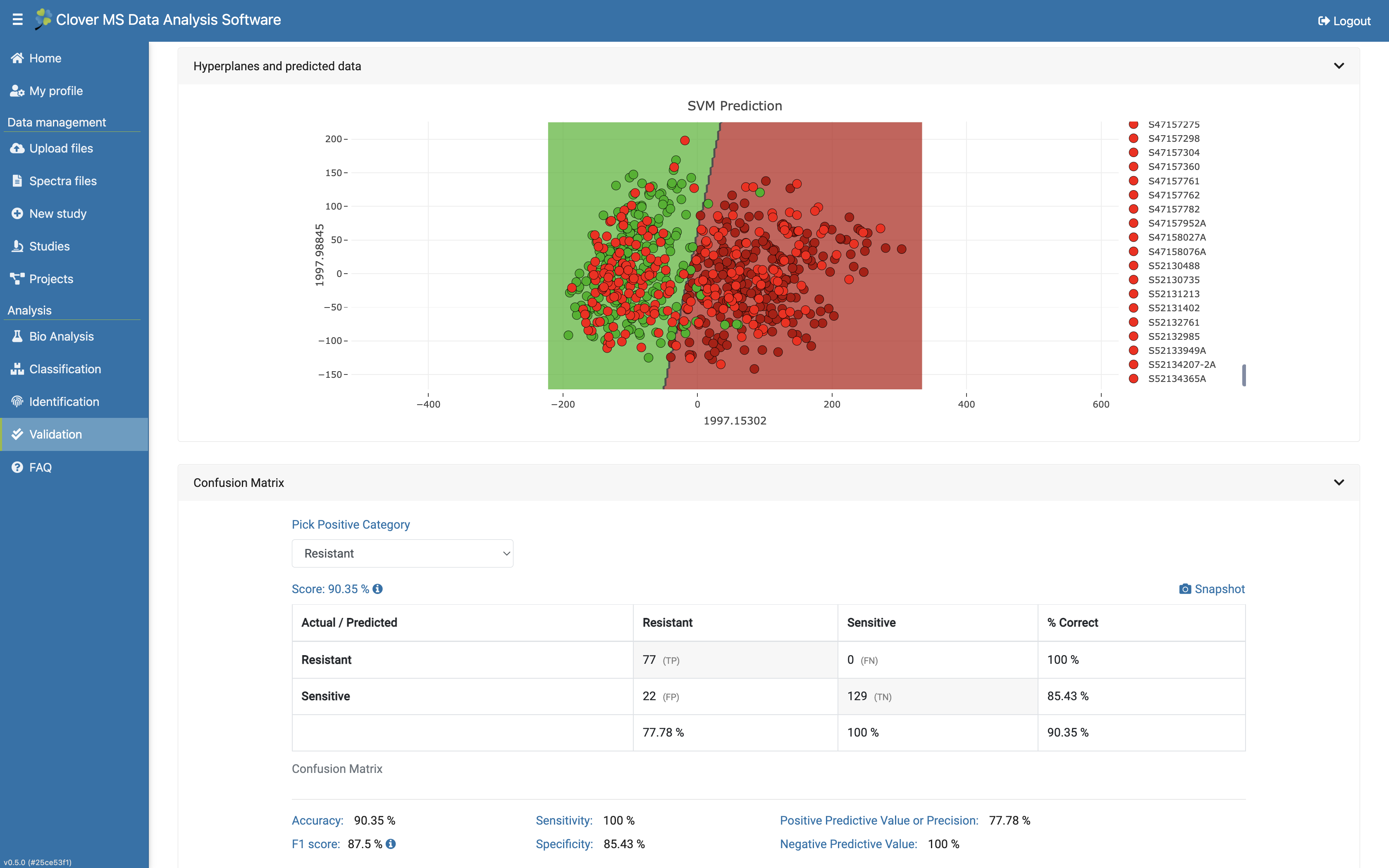 VALIDATE YOUR PREDICTION MODEL
CLOVER MS DATA ANALYSIS IS





Secure
---
Ubiquitous and reliable access
Ready for teamwork
---
Share your data and experiments with your work colleagues
Vendor agnostic
---
Import from all standard formats and from most common MS-FTIR-instruments in the market
Affordable
---
The right price, with the best support
This software allowed us to create an automated workflow for FT-IR based strain typing. Flexible, easy-to-use and supported by an experienced team!
This software allows you to work with FTIR spectra in an easy, comfortable and simple way
This software is unique in its ability to process and compare MALDI and FTIR data
This software literally saved our project
You will get all the help you need from Clover BioSoft to get the most of your mass spectra. Excellent software and excellent team behind to solve all your doubts!
| | |
| --- | --- |
| | This project has received funding from the European Union's Horizon 2020 research and innovation programme under grant agreement No 868365 |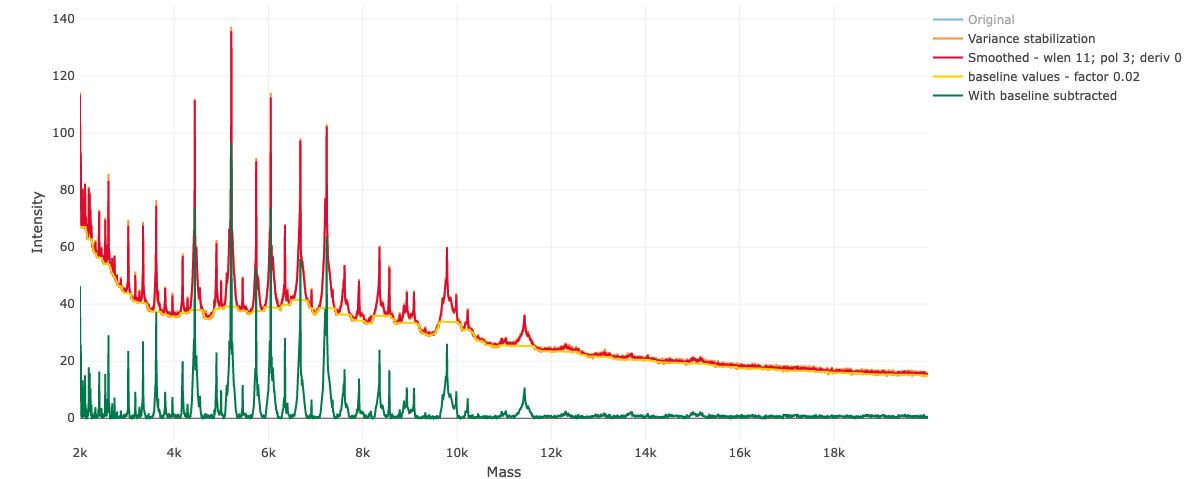 PREPROCESS YOUR SPECTRA
Smoothing
Baseline Subtraction
Variance Stabilization
Average Spectra Management
Mass Filtering
Spectra Alignment
Blank Removing
Peak Finding Algorithms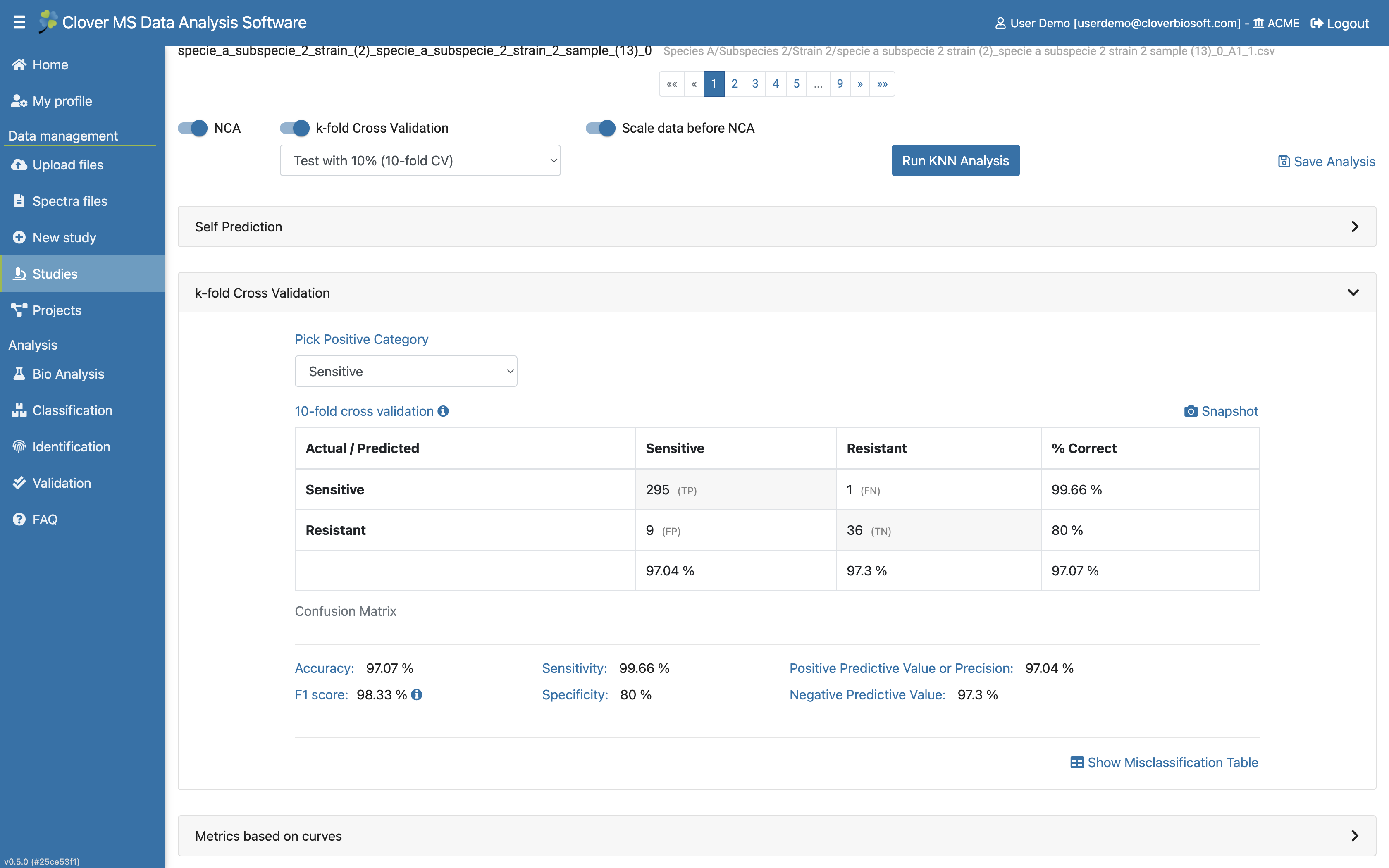 K-FOLD CROSS VALIDATION METRICS
Test your data and evaluate the algorithms and prediction models using clinical metrics like Sensitivity or Specificity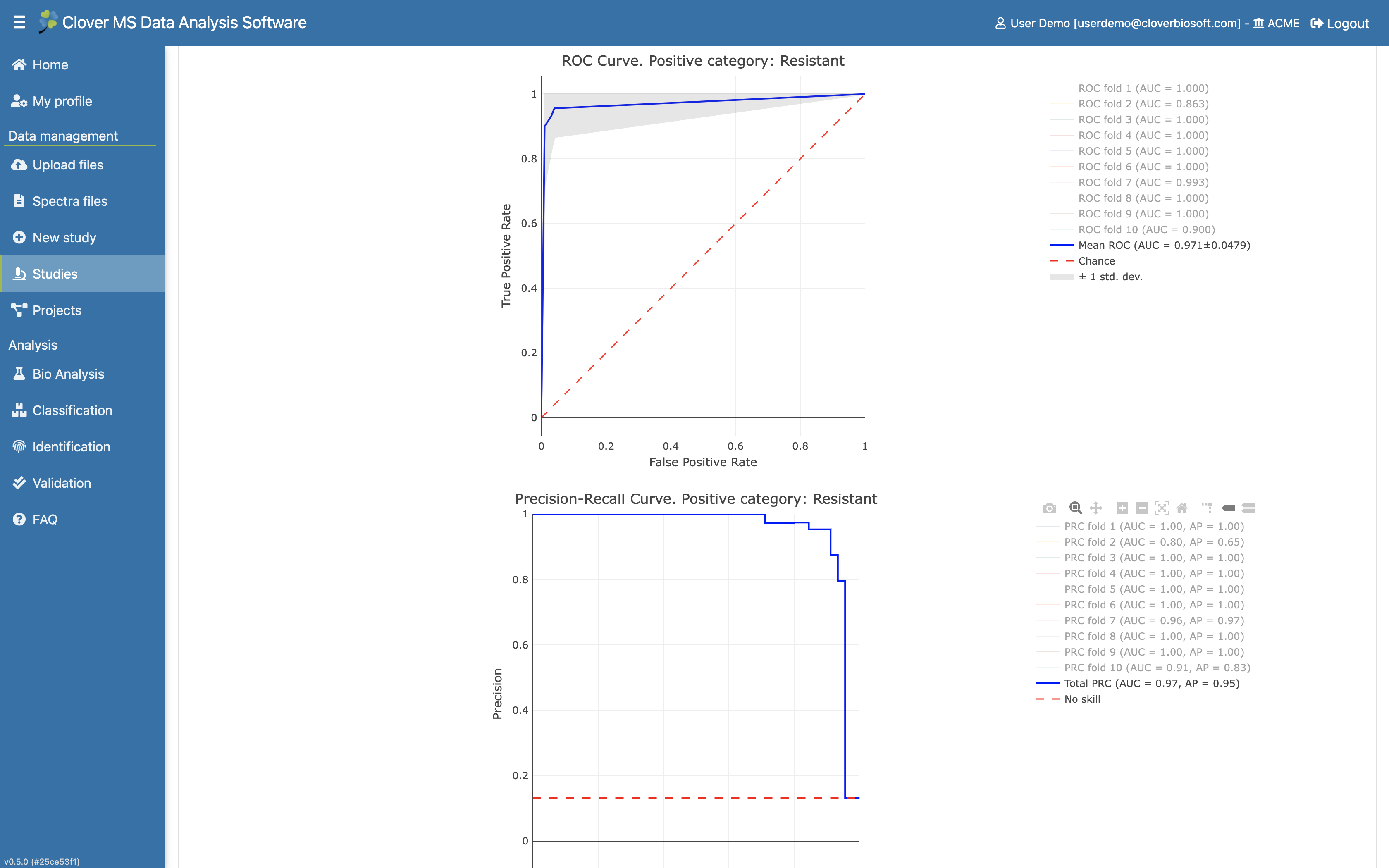 ROC AND PRECISION-RECALL CHARTS
Evaluate your methods or predictive models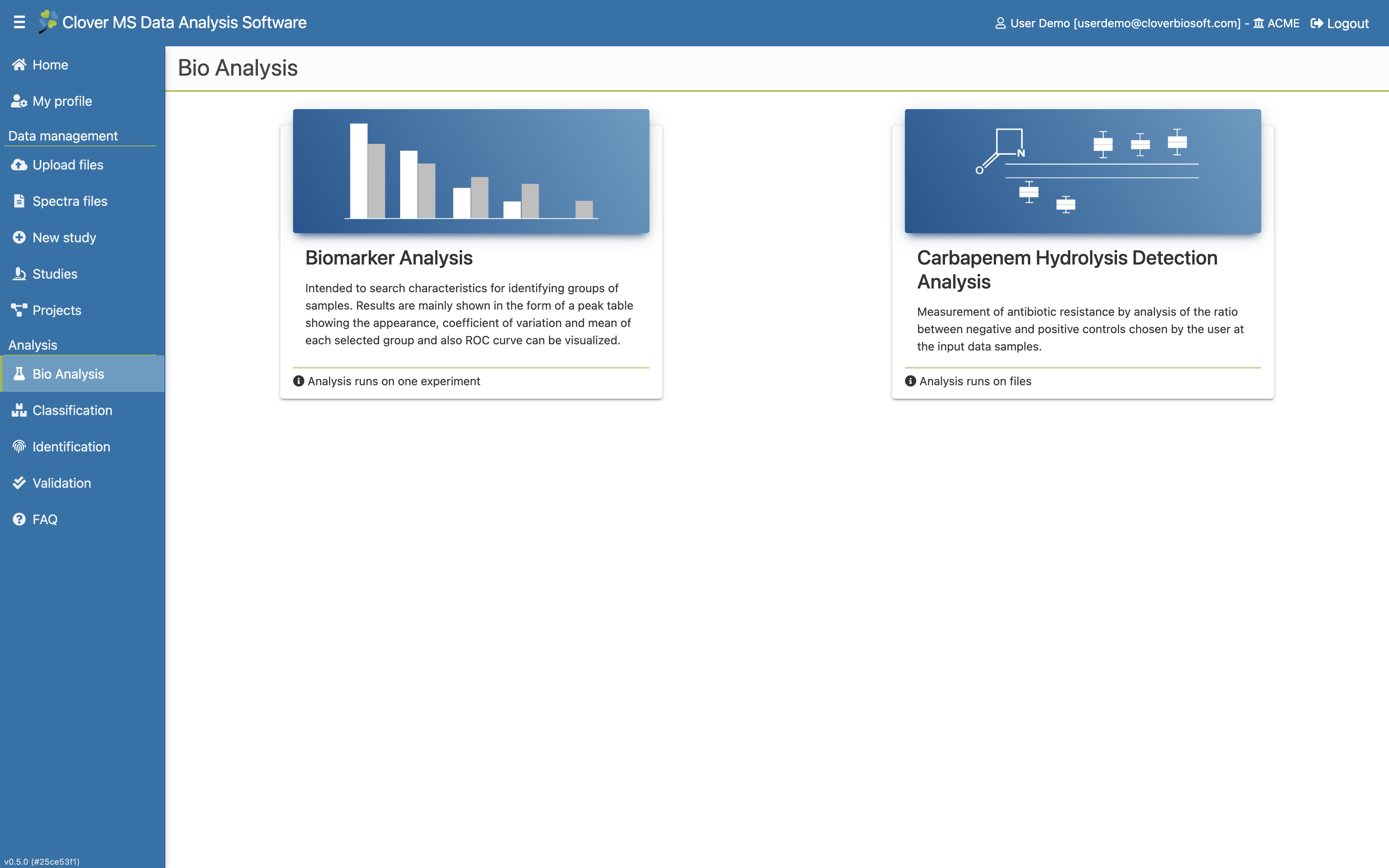 SPECIFIC MODULES FOR BIOMARKER ANALYSIS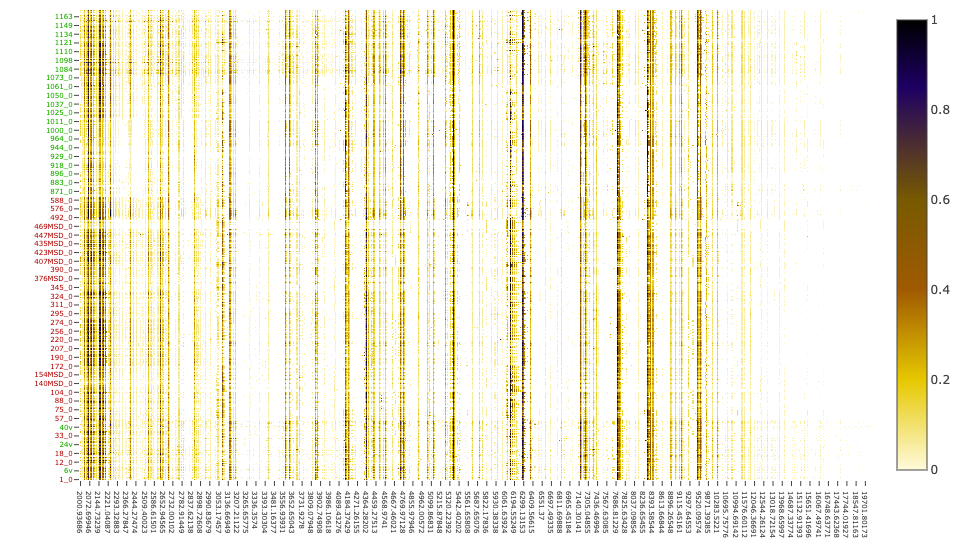 HEAT MAPS AND CHARTS
A large collection of resources and charts to achieve your goal